Targeted Grazing:  A natural approach to vegetation management and landscape enhancement.
Download the ASI brochure that covers grazing opportunities, value for landowners, vegetation and more.
ASI is the national organization representing the interests of more than 88,000 sheep producers located throughout the United States. From East to West, pasture-based flocks to range operations, ASI works to represent the interests of all producers.
ASI is a federation of 45 state sheep associations as well as individual members. All ASI officers, board of director members and council and committee members serve as volunteers – without pay.
Roots Dating Back to the 1800s
The year was 1865. Abraham Lincoln was president, the Civil War was ending, and neither the automobile nor the telephone had been invented. This was the year the National Wool Growers Association was formed, making it the first national livestock association in the United States. It was this association that provided the roots for today's national industry organization: the American Sheep Industry Association (ASI).
Powered by Producers … for Producers
From the domestic and international promotion of wool and pelts to its work on legislative, science and technology, animal health and resource management issues, ASI is a producer-powered federation of state organizations dedicated to the common goal of promoting the profitability and well-being of the U.S. sheep industry.
ASI's producer-driven structure includes a board of directors, executive board, councils and committees and officers. These entities define, develop and execute policy on issues affecting the sheep industry. Councils and committees include Animal Health, Legislative Action, Predator Management, Public Lands, Research and Education and Resource Management.
Proven Coalition Builder
ASI's track record as a proven coalition builder was evidenced when it brought together leaders from all segments of the industry to win the only trade action on Australian and New Zealand lamb imports.
The National Lamb Feeders Association is now a dues paying member of ASI and a key partner in national issues as well. ASI has brought together other livestock, health and aviation interests to successfully defend and strengthen the Wildlife Services program.
Individual producers, feeders, processors and other interested individuals are welcome to join ASI on an individual basis.
ASI Goals
When it comes to setting a successful and profitable course for the industry, ASI believes there is no one better equipped for this task than the American sheep producer. This is why producer members established ASI's goals. They include:
Developing an industry vision for the future.
Being an advocate of public policy to protect, promote and support the economical viability of the industry.
Creating strong national and international markets for wool through advertising, promotion and marketing.
Advancing and coordinating science and technology of production and marketing, and
Promoting communication and cooperation between all segments of the industry, related business and government agencies.
Read more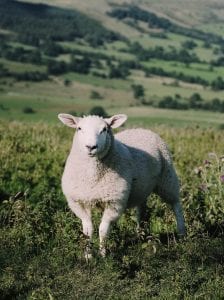 One of the greatest threats to public and agricultural lands in the United States is the spread of noxious weeds. Invasive plants such
as leafy spurge and spotted knapweed kill off the surrounding vegetation, trigger soil erosion, decrease available water, and cost agriculture millions of dollars each year. The weeds not only make the land unfit for crops and cattle, they threaten native plant species and drive off wildlife. For example, a U.S. Forest Service study concludes that forage loss due to knapweed invasion in western Montana's Lolo National Forest could result in the loss of 220 elk annually by 1998.
SHEEP AND THE ENVIRONMENT
Sheep and Noxious Weed Control is a publication of the American Sheep Industry Association (ASI), which represents more than 100,000 U.S. sheep and angora goat producers. Sheep are a natural, low-cost means of managing rangelands, forests, and agricultural lands, even as they produce important resources, such as wool, meat, and lanolin. ASI is committed to proper grazing that benefits the environment, wildlife, the taxpaying public and consumers.
Download the ASI brochure on Sheep and Noxious Weed Control.